Far from your imagination... A majestic creation...
That's Palace on Wheels!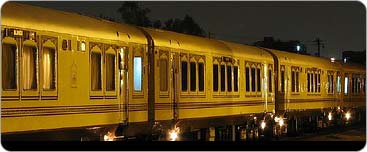 Palace on Wheels, the epitome of luxury and comfort, beckons you to travel back in time to the era of raja-maharajas. A feather in the cap of Rajasthan, Palace on Wheels is one of the most luxurious trains in the world. Reflecting the rich cultural heritage of Rajasthan, the train offers a heritage tour high on luxury. It was once the personal railway coaches of the Maharajas of the princely states of Rajasthan, Gujrat and the Nizam of Hyderabad.
Embark on this royal journey, get treated like a 'king' and explore several enchanting destinations of North India. Offering 7 nights/8 days of a royal journey, the train covers Jaipur (the Pink city), Jaisalmer, Jodhpur, Ranthambhor National Park, Chittorgarh, Udaipur (the city of Lakes), the Bharatpur bird sanctuary and the symbol of love and romance, Agra, before returning to Delhi, the capital of India.
History
The pride of Indian Railways, Palace on Wheels has a glorious history. Its luxury coaches were once used by the  raja-maharajas of the bygone era. Recapturing the "royal era", the train mirrors the rich heritage of the princely states of India. Occupying a prized place among the most luxurious trains in the world, Palace on Wheels started as a fascinating holiday train on 26th January, 1982. And became operational in October of the same year.
Palace on Wheels was the brainchild of Indian Railways and Rajasthan Tourism. To recreate the charm of the glorious era, thirteen carriages from different princely states were brought together and renovated. This luxurious train was launched with unmatched facilities and services to offer its passengers a journey soaked in royalty and luxury.
The luxurious Palace on Wheels offers 7 Nights/ 8 Days tour, soaked in luxury and royalty to the hilt. The train starts from Delhi on every Wednesday of the week.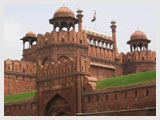 Day 01 - Wednesday: Delhi
Embark on your royal journey on the Palace on Wheels from Delhi Cant. railway station at 17:45 hrs. Honours its guests with a warm and traditional welcome. Enjoy delicious dinner on board at 20:00 hrs.
Day 02 - Thursday: Jaipur
Arrive in Jaipur, the pink city of Rajasthan at 02:00 hrs. Receive a royal welcome with elephants and a Shehnai recitation. Jaipur is a fascinating city planned according to Vaastu Shastra by Maharaja Sawai Jai Singh II in 1728 A.D. Enjoy lunch at the famed Rambagh Palace Hotel. Visit the mesmerizing Hawa Mahal, the Jantar Mantar, Nahargarh Fort, Amber Fort and the City Palace. Return to Palace on Wheels at around 18:30 hrs. Dinner on board. The train departs at 19:30 for Jaisalmer.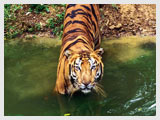 Day 03 -Sunday: Sawai Madhopur
Arrive in Sawai Madhopur at 04:00 hrs. Tourists from across the globe come here to visit its renowned Ranthambore National Park. Famous for tigers, the park provides shelter to a variety of wildlife species. The other attraction is Ranthambore Fort. After sightseeing return to the train and head towards Chittaurgarh at 10:30 hrs.
Reach Chittaurgarh, the indomitable city, at 15:30 hrs. The city is dominated by the fortified Chittaurgarh Fort, the largest fort of India. It reverberates with history of heroism and bravery. Visit the fort, Vijay Stambh(Tower of Victory) and the Kirti Stambh (Tower of Fame). Leave for Udaipur.
Day 04 -Monday: Udaipur
Arrive in Udaipur at 15:30 hrs., a beautiful city founded in the year 1568 by Maharana Udai Singh. Popularly known as the "city of lakes and palaces", Udaipur is undoubtedly one of the most romantic cities of India. Visit the arresting Jag Niwas, Jag Mandir and Lake Palace. Relish your lunch at Lake Palace Heritage hotel. Post lunch, visit the enchanting City Palace.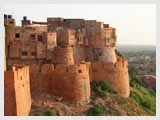 Day 05 - Friday: Jaisalmer
Arrive in Jaisalmer, the Golden City famous for its fort and havelis, at around 08:15 hrs. It was established in 1156 by Bhatti Rajput ruler Rawal Jaisal. Visit the stunning Patwon ki haveli and Nathmalji ki haveli, the architectural masterpieces. Post lunch, enjoy camel safari in the unfathomable sand dunes. Have a good time watching the cultural programmes at a hotel in the city. Relish your dinner on the sand dunes under the moonlit sky. Return to the train. The train, at 23:00 hrs, continues its journey to the next halt, Jodhpur.
Day 06 - Saturday: Jodhpur
Arrive in Jodhpur, a wonderful city nestled on the foothills of a sandstone hill. An oasis in the desert, Jodhpur is a fortified city with high stonewall pierced with seven gates. Visit its attractions - Mehrangarh Fort, Moti Mahal, Sheesh Mahal, Phool Mahal, Sileh Khana and Daulat Khana. Enjoy a royal lunch at the opulent Umaid Bhawan Palace. Return to the Palace on Wheels. The train leaves at 15:30 hrs for Sawai Madhopur.
Day 07 - Tuesday: Bharatpur-Agra
Arrive in Bharatpur at 06:30 hrs. Post breakfast, explore the wilderness of the world famous Bharatpur National Park. Also known as Keoladeo Ghana National Park, the Park is a home to an amazing variety of birds, both resident and migratory. Apart from avian species, it also houses a variety of other wildlife species. Depart Bharatpur at 11:45 for Agra.
Arrive Fatehpur Sikri at 14:30 hrs. Visit its famous attraction- Mosque and Tomb of Salim Chishti ( a Muslim Sufi saint) built by the Mughal emperor Akbar. Post lunch at a hotel in Agra, visit the incredible Taj Mahal. It is one of the seven wonders of the world, symbolizing eternal love. Beautifully located on the banks of River Yamuna, it was built by the 5th Mughal Emperor, Shah Jahan in the year 1631 in memory of his beloved wife, Mumtaz Mahal. Dinner on board.
Day 08 - Wednesday: Delhi
Arrive in Delhi at Delhi Cant. railway station at 6:00 hrs. Breakfast on board. This marks the end of your royal journey, leaving you with a record of golden memories.
Valid from Season 2017 & 2018
Prices in US$
| | | | |
| --- | --- | --- | --- |
| Occupancy | Sept 2017 & Apr 2018 | (Oct 2017 to March 2018) | Description |
| Single | US$ 650 per night | US$ 865 per night | Single Cabin |
| Double/Twin | US$ 500 per person per night | US$ 650 per person per night | Twin Sharing Cabin |
| Super Deluxe | US$ 1800 per cabin per night | US$ 1800 per cabin per night | Double Super Deluxe Cabin |
Prices in INR for Indian National
| | | | |
| --- | --- | --- | --- |
| Occupancy | Sept 2017 & Apr 2018 | (Oct 2017 to March 2018) | Description |
| Single | INR 39000 per night | INR 51900 per night | Single Cabin |
| Double/Twin | INR 30000 per person per night | INR 39000 per person per night | Twin Sharing Cabin |
| Super Deluxe | INR 108000 per cabin per night | INR 108000 per cabin per night | Double Super Deluxe Cabin |
# 10% extra surcharge during Christmas and New Year departures.
# 5% GST will be extra as applicable.
# 50% of the prevailing tariff will be charged for the children between 05-12 years of age
# 10% of the prevailing tariff will be charged for the children below 05 years.
# 5% TDS on commission will be charged
# The tariff structure for the guests having Indian Identity proof (Passport/Voter ID/Aadhaar/ will be applicable.

# The tariff is inclusive of cost of travel, accommodation, all meals, sightseeing tours, entrance fee (excluding video camera fee) for monuments & palaces and entertainment.
# Tariff does not include liquor, laundry and other items of personal nature.
The above Tariff is subject to change without notice.
Service Tax are subject to change as per the government of India directives.

Reservation / Cancellation - Terms & Conditions
Booking Policy:
20% of ticket value plus applicable taxes at the time of confirming the booking.
20% balance of advance of the ticket value 95 days prior to the departure date.
Remaining 60% of ticket value 45 days prior to departure date.
Cancellation Policy:
10% of ticket value 90 days or more prior to departure date.
20% of ticket value between 89 to 30 days prior to departure date.
100% of ticket value 29 days prior to departure date.
For USD bookings: The payable amount in INR should be credited in our account as per the rate of exchange (ROE) of the previous day of the date (www.rbi.org.in) of transferring the amount by the agent.
No show/ En route termination of tour/amendment:
# No Show - In case of No Show / Non-arrival of the guest, no refund or adjustment in future travel will be possible. The whole amount shall be treated as forfeited.
# En route termination of tour - In case of termination of tour by the guest, for any reasons, no refund or adjustment for future travel will be possible. The amount for unused portion of the tour shall be treated as forfeited.
# Amendment - Is only possible under the circumstances like Natural Disaster / Natural Calamity or Serious Health Problem's (this needs to be supported by doctor's certificate) and is subject to availability. No refunds are possible and every case will be decided on merits on a case to case basis. No amendment will be permissible in case of booking of groups or complete train.
Schedule
The luxurious Palace on Wheels starts its journey on every Wednesday of the week from Delhi Cant Railway Station. The train is in operation only during September to April every year. To maintain its high standards, the train requires a lot of maintenance and renovation. So during rest of the months it does not operate.
2017 to Dec 2018
| | |
| --- | --- |
| Months | Departure Dates |
| September*, 2017 | 6,13,20,27 |
| October, 2017 | 4,11,18,25 |
| November, 2017 | 1,8,15,22,29 |
| December, 2017 | 6,13,20,27 |
| January, 2018 | 3,10,17,24,31 |
| February, 2018 | 7,14,21,28 |
| March, 2018 | 7,14,21,28 |
| April*, 2018 | 4, 11,18, 25 |
Facilities
Royal Accommodation
For a majestic experience, the train offers 14 fully air conditioned deluxe saloons named after the princely states of Rajasthan. Each saloon has 4 cabins fitted with bath and shower, intercom, channel music, satellite phones, wall to wall carpeting and other amenities. Adorned like a palace, the saloons offer a truly royal experience.
Attendant
To take care of your every need, an attendant or 'Khidmatgar' is available at your service round the clock.
Restaurants
Done to perfection, the two restaurants namely "The Maharaja" and "The Maharani" serve lip-smacking Rajasthani, Indian, Chinese and Continental cuisine.
Bar
Well stocked with Indian and international brands of alcohol, the bar remains open round the clock.
Lounge
Each coach has an attached well maintained lounge for passengers to enjoy their leisure. Each lounge provides amenities like colour TV, CD player, news papers, magazines and other books.
The Bazaar
The train also offers "The Bazaar" (a shop) where you can shop for a variety of handicrafts.
To make your stay comfortable, the other facilities and services provided on board are laundry services, barbershop, beauty parlours, indoor games, medical aid, mailbox, luggage collection, arrival kit, mineral water etc.
The train also offers special assistance for disabled persons. Wheel chairs, crèches and a special attendant are provided for assistance.
Attractions
Although Palace on Wheel is a great attraction in itself but to add more entertainment to your journey, it has something more in store for you. It offers cultural programmes on board and on arriving at destinations such as regional dance performances and puppet shows. These especially designed cultural programs provide a refreshing effect to the passengers. At every halt, your get an excellent opportunity to see the finest performances performed by talented artists.
Enjoy overwhelming dance performances like:
Ghoomar Dance
It is a community dance performed by women in groups on auspicious occasions. In this simple dance, ladies move gracefully in circles.
Chari Dance
Chari means 'a pot'. The dance includes dancing with a pot, on one's head where an illuminated lamp is placed.
Fire Dance
This dance involves a huge fire in which men of Jasnathi community jump in the fire. The dance is performed with the sound of drumbeats.
Terah Thali
In this dance, men play a Chau-tara, a four-stringed instrument and women hold a sword between their teeth. It also involves placing of pots with illuminated lamps on their heads.
Kalbelia Dance
This dance is performed by Kalbelia women who dance gracefully and as the accompanying music rises in tempo, it makes the dance more vigorous.