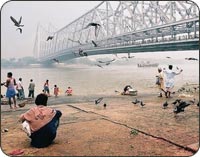 Kolkata, affectionately dubbed as the "City of Joy" is one of the most culturally rich cities of India. Earlier known as Calcutta, Kolkata is a perfect blend of the old and the new. Its unique and wonderful culture make it popular among tourists. It is the capital city of the state of West Bengal. It offers several amazing attractions to tourists. From scenic beauty to architectural beauty, the city has a lot to enchant tourists.
History
The wonderful city of Kolkata is more than 300 year old. It was founded in 1668 when the British decided to shifted their operations to the small villages of Govindpur, Sutanati, and Kalikata from their trading port of Hooghly. It saw the rise and fall of several rulers and remained the capital of the British government in India until 1911.
Main attractions
Howrah Bridge
Synonymous with Kolkata, Howrah Bridge is one of the main attractions of the city. It is considered as the busiest bridge in the world which is crossed by around 1 lakh vehicles everyday. It was constructed in 1943 with an aim to assist military transportation between Kolkata and Howrah during the period of World War II. Built over Hoogly river, it offers picturesque views.
Kalighat
It is revered temple where many a devotee come everyday to take blessings from goddess Kali. The temple enshrines a wonderful image of goddess Kali.
The Victoria Memorial
This imposing structure was built by Lord Curzon in honor of Queen Victoria. Fashioned out of white marble, it as now been transformed into a museum where a rare collection of royal possessions have been displayed.
The Birla Planetarium
Worth a visit, it is one of the largest museums in Asia. Established in 1962 by the Birla Education Trust. It is a center of science, communication and environment.
The Indian Museum
Built in the year 1874, it is the oldest museum in India. Here you can see a rare and impressive collection of artifacts.
Shopping
In Kolkatta you can go on a shopping spree and buy some amazing handicrafts such as masks, terracotta tiles, brass objects, cane and bamboo crafts and ornaments.