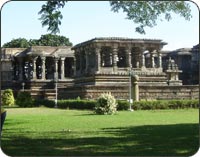 Halebid is the land of architectural delight, which is known throughout the world for its grandiose temples and architecture. It is the land where one can see the wonders of human imagination sculptured in stone. The crafted beauty makes stone alive with its own glorious story to be uttered. This place is the haven for art patronage, school for arts learner and research ground for historians.
This magnificent temple town was the capital of the Hoysala Dynasty which was built during the 12th and 13th century AD.  Etymologically the word Halebid means 'the ruined city'. This is also known by another name Dwarasamudra, which is derived from the vast tank known as Dwarasamudra. This splendid town was built during the reign of Ketamala, and enhanced by Vishnuvardhana.  Hoysaleswara and Shantaleswara are the two famous temples of Halebid, which are named after  Vishnuvardhana Hoysala and his wife Queen Shantala, who built these temples. Later in the early 14th century it was attacked by invader Mallik Kafur, who plundered and looted this place.
Major Attractions
Hoysaleshwar Temple
This is an incomplete temple whose construction started in 1211 AD, and yet some of its parts are uncompleted. The chiselled beauty of this place is praised around the world. This temple is known for its detail stone works, architectural beauty and grandiose structures. The walls of the temple are covered with endless depictions from Hindu mythology, animals, birds and Shilabalikas. The crafted beauty and inlay work on entire premises utter the glory of this forbidden city.
Shiva Temples
The twin Shiva Temple with a common platform is another magnificent structure of this place. It is also known for its structural beauty of two garbhagrihas - one housing, the Vishnuvardhana Hoysaleshwara Linga and the other Shanthaleshwara Linga.
Nandimantapa
It is situated in front of the Hoysaleshwara next to the shrine of Surya with a 2 meter tall image. The most interesting thing of this place is 'Parshwanatha basadi' the highly polished pillars, which reflect strange images of on-lookers.
Museum of Archaeological Survey of India
It is located in the temple premise which is known for its exotic collection of woodcarvings, stone sculptures, idols, coins, inscriptions and several artefacts made up of stone and metals. This rich collection helps visitors to know the historical legacy of this place.
No major festivals and fairs are celebrated in Halebid. However, once in every 12 years the whole city gears up to celebrate the commemoration of the Lord Bahubali (Gomateshwar) in Shravanbelgola. Statue of the lord is 17 meters high, which is said to be the tallest monolithic structure in the world. This festival is celebrated in a grand manner which lures scores of tourists from various parts of the globe. During the ceremony, the statue is washed and decorated with yoghurt, jaggery, ghee, coconut oil, milk, saffron, poppy seeds, almonds and bananas.